An antique inspired bathroom sets itself from the rest with its classic, old world charm. But while traditional vanities for bathrooms are easy to find, the replicas in truly ornate styles are not that easy to come by. The antique pieces with exotic wood veneers and elaborate wood carvings are rare to find. And the best way for you to create a period style is opting for antique vanity sets. This is the way to get a cohesive décor to coordinate the old world style that you desire. Exclusive Antique Veneers While designing a bathroom, each and every detail is important; like the frame of the bathroom mirror. In any kind of décor, it should match your vanity cabinet.  The classic antique bathroom vanities are mostly made of more exotic and much rarer woods and therefore, getting the exact match is next to impossible. Therefore, buying an antique vanity set is a feasible option. Being a part of the same collection, the mirror would match perfectly. Intricate Antique Woodwork: The antique designs are mainly characterized by detailing of woodwork. Unless and until you go for an antique bathroom vanity set, you will find it quite tough to match the intricate and elaborate carvings, hand-wrought flourishes and minute details across separate pieces of furniture like sink, faucet, mirror, vanity top or linen cabinet. Therefore, the major reason to opt for vanity sets is not only getting all the wood pieces in the same finish but also with the same finishing work as well.
A greater option when you have a bigger bathroom: Originally designed to be used in sprawling, huge spaces, the antique bathroom designs are absolutely perfect for larger bathrooms. But there are compact antique vanities as well which are typically antique in style and designed for small bathrooms. The antique bathroom vanity sets, mainly those with a three-piece modular design comes in three pieces. These are easy to install, less expensive and just meant for filling out a larger bathroom in a supreme way.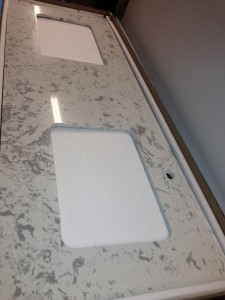 Natural Stone Counter Tops: Creating a period style bathroom demands a perfect balance of luxury and authenticity; the details should stay true to the vibe you seek for the design and the spirit of the times. The antique bathroom vanity sets satisfy your purpose well. These vanity sets include marble or granite counter tops which are chosen to match the design. Moreover, as these natural stone tops are bought and cut in bulk, these are much less expensive too. Ensure overall excellence: While with any other kind of décor you may have to undergo a lot of trouble in upgrading your bathroom, antique vanity sets save you from such hassles. As you install a complete set with mirrors, sinks, faucets, storage cabinets and vanity tops, you do not need to struggle much to build a matching design. And above all, purchasing high end antique replicas in a single package you are able to keep the total cost of your project much lower. A fantastic range of elegant, sophisticated and sleek Victorian style and antique vanity sets are available to bring the magnificent charm of the old world to your bathroom. Made of solid hardwood, mostly authentic exotic wood veneers, the antique bathroom vanity sets come hand carved with elaborate, period-inspired designs to create an exclusive style with a truly authentic period décor.
Author Bio: HomeThangs.com is not only a home improvement superstore, it also provides expert design tips and a comprehensive shopping guide, taking the ideas from professional interior designers, and offering tips to the consumers on how to pick the products to best suit their needs.