A kid's bathroom may need the same fixtures as an adult's, but there are some other things you can consider when planning the design. Check out some of the tips below to guide you on your designing project: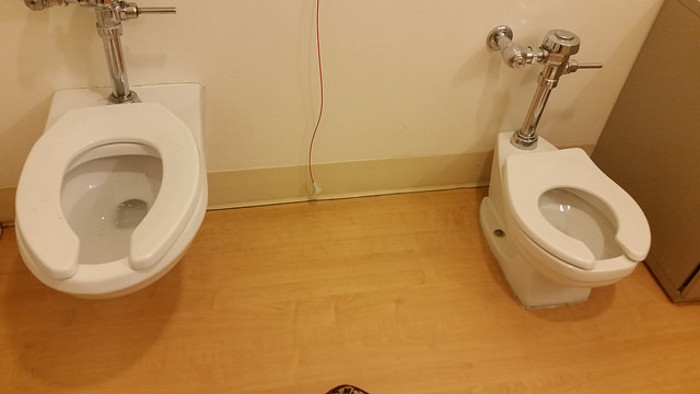 Supply Ample Lighting
This tip is for any bathroom! You don't want to have dark areas in the bathroom. For cleanliness issues and for little one's to see what they're doing. Kid's bathrooms are a prime area to get hurt in, so ensure that lighting sconces, overhead ambient lighting, and even pendant lights over the vanity are bright and don't cast shadows. Source: Freshome
Non-Slip Flooring
Little feet are usually busy running, jumping, and hopping — even in the bathroom. Small ceramic tiles with lots of grout lines provide traction that helps prevent accidents. For an extra measure of protection, look for bathroom tiles that have a coefficient of friction (COF) greater than .60 — you'll find the COF on the technical product information accompanying the tile packaging. Anti-slip tile may be harder to clean, but worth the effort! Source: HouseLogic
Easy Access
Remember your kids aren't as tall as you are so you'll want to create a bathroom design that is easily accessible to them. Lower sinks and toilets, for instance, will ensure they won't make a mess when using the potty or brushing their teeth. You can also invest in stepping stools so they can see the mirror or reach things on shelves.  Source: StyleMotivation
Looking for quality bathroom fixtures? Contact us!
Contact:
Eago Parts
Phone: Toll Free 1-888-556-1912
Calgary, Alberta
Email: info@eagoparts.com