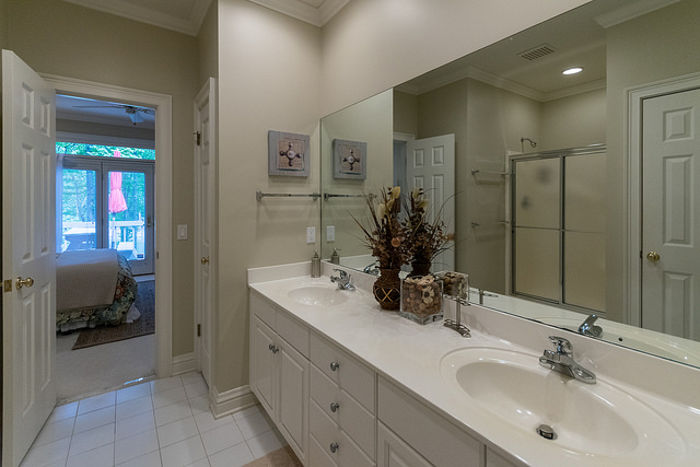 Summer is all about spending time outdoors—going to beaches, hanging out at the park, or just casually strolling around the area. Although you can't spend 100% of your time outdoors, you can bring these summer vibes inside your home. Follow these tips in order to reinvent your bathroom this summer:
Clear out the clutter
Possibly the simplest and cheapest way to refresh your bathroom is with an old fashioned deep clean and declutter. Clear the vanity benchtop of the items that inevitably find their way there, put in some elbow grease to make your surfaces sparkle and, for the really committed, declutter your bathroom cabinets of unused or out-of-date products. To maintain a clear and calm bathroom, return only the absolute essentials to the benchtop. Source: Houzz
Choose a colour scheme
Believe it or not, the colours you use in a room contribute to the mood and atmosphere it creates. Choose a calming, soothing colour scheme to make your bathroom a place of relaxation.
Then, find simple ways to add it to your bathroom. For example, paint just one wall as an accent wall and as a backdrop for a shelf full of accessories. Other ways to add colour include bringing in soft rugs, plants, flowers, shower curtains, towels and accessories that all work together with the same colour scheme. Source: HSS
Recycle and gather
An easy way to add a touch of summer into the home would be to repurpose old mason jars and turn it into receptacles for dried twigs and seashells. Walk around your garden and look for small branches that you can use. Clean each with a damp cloth and arrange them in jar. If you can't find the shells that you've collected from your last beach trip, work with smooth stones instead! Your finished project would look perfect on your bathroom counter. Source: RealLiving
Upgrade your tub
Builder-grade bathtubs are fine, but they're certainly not luxurious. Try a clawfoot or gorgeous soaking tub for the ultimate relaxation experience. Source: HGTV
For modern bathroom fixtures that you can incorporate with your summer theme, contact us!
Contact:
Eago Parts
Phone: Toll Free 1-888-556-1912
Calgary, Alberta
Email: info@eagoparts.com