Your bathroom is where you will spend time preparing for the day ahead, plus it provides a space to relax and unwind in an nice bath at the end of a long day. Therefore it is essential that your bathroom is designed both beautifully and practically. When it comes to designing your bathroom there are so many things that you will need to consider that it can often be a hard task to know where to start. This article is packed full of handy top tips that will help to create your dream bathroom in no time at all.
Start With a Plan
The first thing that you will need to do is to create a plan of the bathroom area. You can do this the old fashioned way by measuring the room with a tape measure and then use these measurements to create a scaled down plan on paper. Use a pencil to create the plan and experiment with positioning of soft fixtures and fittings so that you can easily change them if need be. The other option is to use a piece of design software. This software will automatically generate a plan of your bathroom for you so that you can refer to the plan throughout the design process. There are lots of inexpensive programs on the market designed for do it yourselfers to design there own bathroom.
Create a Moodboard
The next step is to create a moodboard. A moodboard is a board which features clippings of images, fabric swatches, themes and color swatches and themes that you like the look of. You can find inspiration in a number of places including in home design magazines, and on sites such as Pinterest. This step is important as it will help to inspire you and give you a visual representation of what you are after, which in turn will help you to create a more professional look and finish in your bathroom. Also dont forget to think about the lighting for your bathroom as that will set the mood of it being an airy open feel or closed and dark.
Fixtures and Fittings
Now is the time to start thinking about what fixtures and fittings you want inside of your bathroom. Write down a list of everything that you definitely want such as a whirlpool bath, steam shower unit, single or double bathroom vanity, framed mirrors, his and hers sinks and so on. When it comes to choosing bathroom fixtures you will want to pick things which are matching or similar in style. You can experiment with the positioning of these units on your moodboard.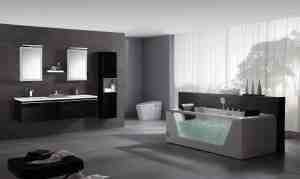 Style
You can refer to your moodboard when it comes to the overall theme of your bathroom. You will need to pick the paint color or wallpaper for the walls, and other things like tiling. Try to pick softer colors for bathrooms with touches of bold color or design to really make your style pop when people enter your bathroom… sometimes little if more when it comes to subtle newonces that make a statement.
Finishing Touches
The finishing touches can really bring out the best in your bathroom help to tie everything all together. These finishing touches can include things like large candles, mirrors, heated towel racks and bath mats. Follow the above tips and you should be able to design your dream bathroom in no time at all.
Information provided by bathroom specialists www.perfectbath.com