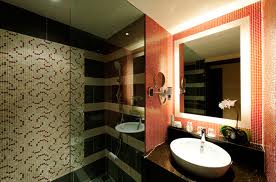 Renovate Your Bathroom this Festive Season
Home improvement simply doesn't simply mean calling forth interior decorators and then having your kitchen and bathroom measured. It is also essential for you to invest on the designing project. You cannot simply rely on the construction workers, as they will also ask for your active participation for understanding all the basic details of your preferred home renovation. A house has two most important parts that are subjected to maximum wear and tear. They form an essential part of the home and where we get to spend the most relaxing time of out of our days and these are bathrooms and the kitchen.
Bathroom Renovation
There are many ways in which you can plan your existing bathroom. You can invest new elements and ideas to make it more familiar with the current trends, for instance, you can employ glass tiles. They are pretty interesting and far better than the melancholy tiles that are usually employed in traditional bathrooms. They are popular for their underwater appearance. You can go for undermount double sinks which is usually designed keeping the style rough to match up with the counters.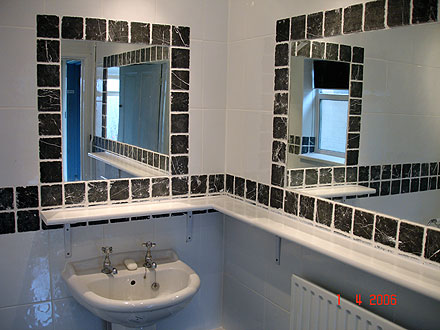 Outfitting Glass Tiles in Bathroom
 Subway Tiles: Now, the trendiest tiles that can make your bathroom look more splashy and cheerful in appearance. If you have blue walls, then you can definitely employ white colored subway tiles that will soften the look. If you prefer a vintage styled home, then they will definitely work or you.
Bold Colors: if you want to pop some colors and mood in your bathroom, then opt for a mild fuchsia color. They will employ zest and drama to the room. The vibe will also turn funky in attitude.
Multi-Head Showers: If you are more of a functional person, then it is better that you opt for multi-head shower systems, adding a large rain shower head and multiple body massage jets as they reflect both functionality and luxury. They mist through different angles, enriching the whole shower experience to another level.
Radiant Heating: Well you can always ensure to have a heated bathroom in the colder months. You can employ in-floor heating. This technology is employed by more and more people nowadays. They are very cost effective and this makes them extremely popular among the general public.
Conclusion
We tend to renovate our living rooms and bedrooms during the time of holidays and often forget to redesign one of the most important parts of our house, which is bathroom. It is high time that you follow the above styles and tips for changing the whole outlook of your bathroom. You can always gather more information from home design and house construction websites and blogs. They always tend to provide the latest information about the designs and styles that are in trend at the moment.
Summary: It is necessary to check out bathroom and kitchen remodeling ideas from different sources for getting the right inspiration. Check out our other excellent tips and guides on home improvement in our blog section.
Mary james is a proficient writer. She writes about home renovation, industrial structures, pultrusions and various other topics, Her writings always contain authentic information.