Las Vegas, the city of sin, lights, and luxury, isn't just about casinos and entertainment. As a hub of extravagance, it's no surprise that even the bathrooms in its premium hotels are the stuff of legend. From gilded fixtures to sweeping views, let's journey through some of the most exotic bathrooms Las Vegas has to offer.
1. The Palazzo Resort Hotel Casino
Starting with The Palazzo, its suites offer an Italian escape in the heart of Vegas. The bathrooms are especially mesmerizing. Imagine soaking in a Roman tub, marble floors beneath your feet, with remote-controlled curtains revealing breathtaking views of The Strip. The gilded mirrors, plush towels, and golden accents all shout luxury.
[Image: A lavish bathroom from The Palazzo hotel with panoramic views]
2. The Cosmopolitan of Las Vegas
Known for its modern aesthetic, The Cosmopolitan offers bathrooms that blend functionality with avant-garde design. Picture Japanese soaking tubs overlooking the city skyline, a walk-in shower with a fusion of marble and glass, and mood lighting that can be adjusted based on your feelings.
[Image: A sleek, contemporary bathroom from The Cosmopolitan]
3. Caesars Palace
Living up to its name, Caesars Palace offers a regal bathroom experience. The villas boast stone walls, columns, and a spa bathtub that could fit a small party. The detailing, reminiscent of Roman times, coupled with modern comforts, creates a unique blend of old-world charm and contemporary luxury.
[Image: A bathroom from Caesars Palace showcasing its Roman-inspired architecture]
4. Bellagio Hotel and Casino
Bellagio, renowned for its fountains, also has some of the most enchanting bathrooms in Vegas. Their suites boast bathrooms with Italian marble floors, whirlpool tubs, and steam showers. The most luxurious of these offer views of the fountains, allowing guests to indulge in a relaxing bath while watching the world-famous water show.
[Image: A Bellagio bathroom with a fountain view]
5. ARIA Resort & Casino
ARIA, with its emphasis on technology and modernity, offers a futuristic bathroom experience. With a one-touch system controlling lighting, curtains, and music, guests can curate their ambiance. The seamless glass showers, deep-soaking tubs, and dual sinks framed with backlit mirrors offer both opulence and convenience.
[Image: An ARIA bathroom illuminated with ambient lighting]
6. Wynn Las Vegas and Encore
Wynn and Encore, two sister properties, redefine elegance with their bathroom designs. Characterized by wide spaces, the bathrooms boast oversized marble bathtubs, dual sinks, and a separate glass-enclosed shower. The highlight? A floor-to-ceiling window next to the tub, offering a serene view while you relax.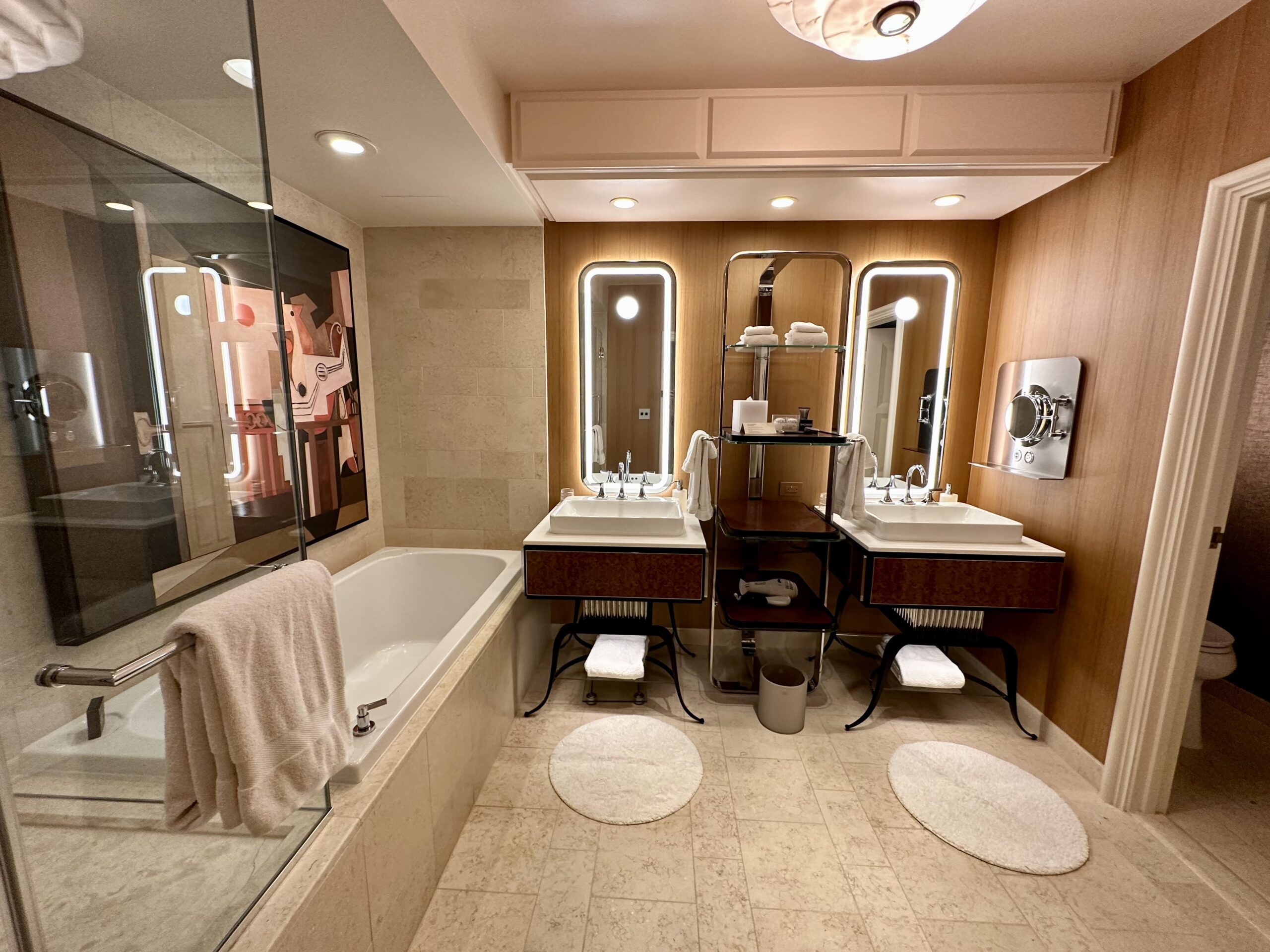 [Image: An expansive bathroom from Wynn with a picturesque view]
7. The Venetian Resort Las Vegas
Inspired by Venetian aesthetics, the bathrooms at The Venetian are a work of art. Complete with Italian marble, the bathrooms are spacious, featuring a Roman tub, separate glass-enclosed shower, and private water closet. The ornate design and luxurious amenities make you feel like Venetian royalty.
[Image: A regal bathroom from The Venetian, showcasing its Italian inspiration]
Marrying Luxury and Utility
What sets these bathrooms apart isn't just the sheer luxury but the thoughtful blend of luxury and utility:
Personalized Experience: With the integration of technology, guests can customize their ambiance, adjusting everything from lighting to music.
Space Optimization: Despite the opulence, there's no compromise on space. The bathrooms are expansive, offering freedom and comfort.
Attention to Detail: Whether it's the quality of the marble, the thread count of towels, or the brand of toiletries, every minute detail is tailored for luxury.
Conclusion
Las Vegas is a world of excess, and this extends to even the most private of spaces – the bathroom. While the city dazzles with its casinos and shows, the hotels ensure that guests are enveloped in luxury at every turn, even in the most intimate of settings. So, the next time you're in Vegas, don't just roll the dice at the casino; indulge in some bathroom luxury too.