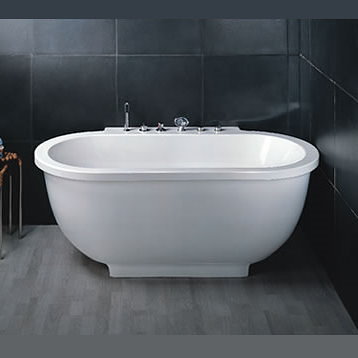 In a recent post, we discussed some of the biggest bathroom trends for 2016 and among those trends was the prevalence of the free standing tub. Back in the day, bathtubs were purely functional and even then, normally used for the little ones. With the hustle and bustle of daily life, who has time for a bath? It's normally a quick shower before you jolt off to work in the mornings and maybe a bath in the evenings for the kids, because trying to shower them is just too much work. But the purpose and style of contemporary bathrooms are changing. Bathrooms are being built for luxury and relaxation, a place where you should be able to unwind from the day and feel like you're experiencing a private session at the spa. With this trend, has come the emphasis on the free standing tub, and these are a few of the designs we like best.
The Modern PlateWe just had to start with this creative dual tub-shower design. If you look closely, it looks a little like a contemporary plate or bowl used for traditional dining. Yet, with the slightly uplifted corners and the wide, flat bed, this unique design serves as both a shower and tub design that is big enough to lie down and stretch out in. It's unique, creative and edgy, and it definitely made our favorites list.
Photo Credit: hexelife.com
The Egg Shaped PoolThis tub design is unique in that it breaks from a traditional tub design in its slightly egg-shaped symmetry. We also liked the stand-alone faucet, which gives the space a more elegant and sophisticated appearance. This bathtub is simple, yet it is also modern and edgy. It's not too boisterous and it's an all-around lovely design.
Photo Credit: dekrisdesign.com
The Corner SpaFinally, you just have to admire this corner spa-like design. It mimics a traditional Jacuzzi in its style and design, but it fits snuggly into the comfort of your bathroom, even leaving room for a partner if you so choose. The design is luxurious, modern and comfortable – a must-have for a truly spa-like experience.
What are your favorite bathroom tub designs? Do you have something of which you're especially fond that wasn't mentioned in our choices above? What kind of interior options truly make a room feel superior? Leave your suggestions and feedback in the comments below, we'd love to hear from you!
Contributed by : Aaron Gruenke foremost bathroom expert and author writing for several online and offline magazines and blogs.