Bathroom Remodeling Trends
Keep your bathroom stylish and contemporary by following the latest trends. As the years pass, trends in interior design go in and out of style. Also, remember that technology advances and evolves. As this happens, new products are made available and are integrated into bathroom design. Read on to learn more about bathroom remodeling trends, including steam showers, tile patterns, luxury bathroom design and environment friendly bathroom products.
Futuristic Showers
Showers are becoming more prominent in the latest bathroom designs. Sometimes, bathtubs are taken out to make room for large, walk-in showers. The trends include the construction of custom walk-in showers or the installation of prefabricated showers, including the one pictured below. This steam shower doubles as a whirlpool bathtub and includes tech, such as lighting, body massage jets, rainfall ceiling shower and a computer control panel with a timer.
Photo credit: Ariel DA324HF3 Steam Shower with Whirlpool Bathtub
Stylish Tile
Tile in the bathroom is becoming bolder and louder than ever before. Trending styles include colorful tiles cut into unique shapes and arranged in intricate patterns. In the photo below, the bathroom backsplash makes a big impression with a chevron design. The alternating white and gray lines of tile add texture and create a focal point in the interior design. The tile makes this bathroom elegant and breath-taking.
Photo credit: https://instagram.com/p/1s1IJGkOsb/?taken-by=osborninteriors
In this next example, an entire bathroom wall is tiled with a blue tile that is cut in a fan shape. The tile makes the space beautiful and the wall becomes the "wow factor" of the room.
Photo credit: https://www.pinterest.com/lisalittlehouse/b-a-t-h-e-interiors/
Eco-Friendly Design
As people become more conscious of our impact on the environment and our planet, homeowners are asking for water saving bathroom products, including eco-friendly toilets with dual flush capability and low flush settings. Homeowners may also choose to install water saving faucets and shower heads.
Luxurious Living
In recent years, bathrooms are becoming as luxurious as high end living rooms. Gone are the days when the bathroom was just about practicality and function. Now the bathroom is all about helping you relax while getting your bathroom routine done.
To make the bathroom as luxurious and relaxing as possible, people are installing whirlpool bathtubs with FM radios and chromatherapy lighting. Soaking bathtubs are installed for long baths. Sofas and lounging chairs are placed near the bathtub and chandeliers are hung above the bathtub for the ultimate in comfort and home décor.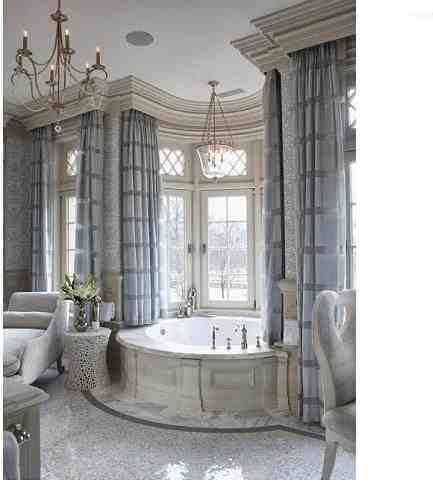 Photo credit: http://www.southshoredecoratingblog.com/2013/09/50-favorites-for-friday-96.html
Refrigeration
Small built-in refrigerators in luxury bathrooms keep drinks cold, so you can grab a drink before taking a bath. Homeowners are also asking for small refrigerators built into the bathroom vanity where cosmetics can be kept at optimal temperatures.
The bathroom is not a place where you want to cut corners if you want your home to fit in with the current trends and styles. Remodeling your bathroom with the hottest trends in mind can also help increase the value of your home if and when you choose to sell. Have fun redecorating and choosing trends to include in your bathroom design.